L-29 Delfin is a Czechoslovakian military training aeroplane, which was developed and produced by the Aero Vodochody company. It was the main trainer aeroplane of the Warsaw Treaty in the 1960s and it was replaced by L-39 Albatros from the 1970s.
L-29 Delfin with Hungarian Register - 15th August 2018.
It wouldn't been a more worthy date for Komo-Sky-Team's military trainer -L-29 Delfin- for executing the first take off with a Hungarian register than 15th August. 15th August is the Day of the Hungarian Air Force. Although this aeroplane has been flying for five years on the Hungarian sky, this day was the first time when it was flying with the Hungarian register HA-DLF. On that day a five years old story has come to the end, and began a new one at the same time, because from that moment also L-29 Delfin became a member of the Hungarian oldtimer's community.
In the year 2017, the owners of the aeroplane (Komócsi Zoltán's heirs, his wife and his son) and Szakács "Szaki" Gábor (who manages and pilots L-29 Delfin) came to the decision to ask Goldtimer Foundation to operate it and keep the aeroplane in airworthy condition. Kecskemét Air Base experts gave a helping hand to this tasks. Their professional skills and experiences were the guarantee that the aeroplane will be in good hands in every respect.
Flight possibility with L-29 Delfin
There is a possibility to fly with L-29 Delfin from Tököl airport all year around. For more information or for making a reservation, please contact Komo-Sky Team.

Webpage: http://komoskyteam.hu/
E-mail: info@komosky.hu
Phone: +36 30/ 269 83 06

.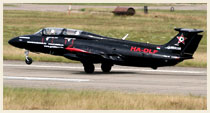 Technical data:
Wing-span:
10,29 m
Length of the plane:
10,81 m
Height of the plane:
3,13 m
Wing area:
19,80 m2
Weight of the empty plane:
2280 kg
Take-off weight:
3540 kg
Quantity of fuel:
1300 L
Type of the engine:
Motorlet M701C-500
Output of the engine:
8.8 kN
Maximum speed:
820 km/h
Range:
900 km
Ceiling:
11500 m
Climbing ability:
13,6 m/s